FZ FORZA NYLON SHUTTLES NS-9
SKU:
301809
Unit:
set
Qty:
2
Delivery time:
3 business days
FZ FORZA NS9
This is our newly designed nylon shuttle. The FZ Forza NS-9 has a unique vane pattern in the skirt which imitates the natural pattern from the best feathers used in natural tournament shuttles. This gives this shuttle a superb flight performance and a long durability. Our girdle design has double stitching for increased durability. The natural cork head means that you will have superior feel from this nylon shuttle. This shuttle is suitable for ultimate training and tournament for club players.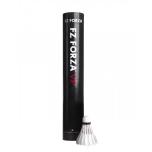 FZ FORZA VIP
First-class tournament shuttle with unsurpassed durability and flight. Every single FZ Forza shuttlecock is extensively controlled by both machinery and inspectors securing finely balanced products of high quality. These FZ Forza VIP shuttles are double tested for speed and stability in flight.
SKU:
301554 ,
Qty:
17 ,
Delivery time:
3 business days ,
Auke:
,
Kaal:
,
Tasakaalupunkt:
,
Jäikus:
,
Varre materjal:
,
Raami materjal:
,
Võimsus:
,
Keelte pinge:
,
Lühikirjeldus:
28,95 €